All Alone @ Alabama Hills
All Alone @ Alabama Hills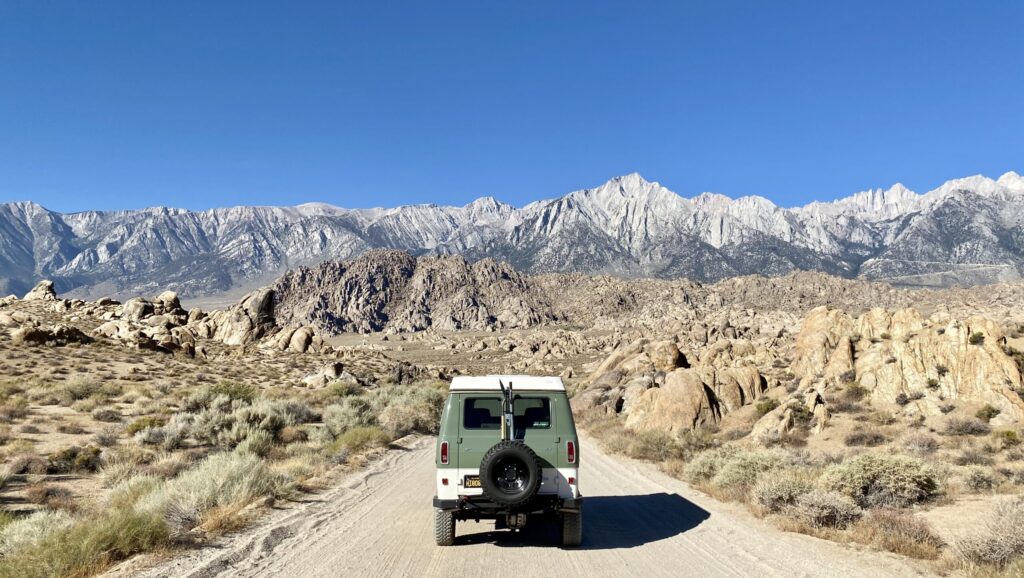 No matter how much you get out and adventure, it always feels like there is more to explore. I have wanted to sleep out at Alabama Hills for a while. Part Joshua Tree, part Sierras, Alabama Hills offers incredible views and tons of BLM land to play. It's also more remote being further from the major metros which I always appreciate. So when I found myself needing to drive the 808Van down to LA I thought it was the perfect opportunity to go the "long way round" and do a stopover in the shadow of Mt. Whitney.
SF to LA is normally a boring 5.5 hour straight shot down Route 5 – but that's no fun in the 808Van! So I headed West out out of the Bay through Yosemite and over the Tioga Pass.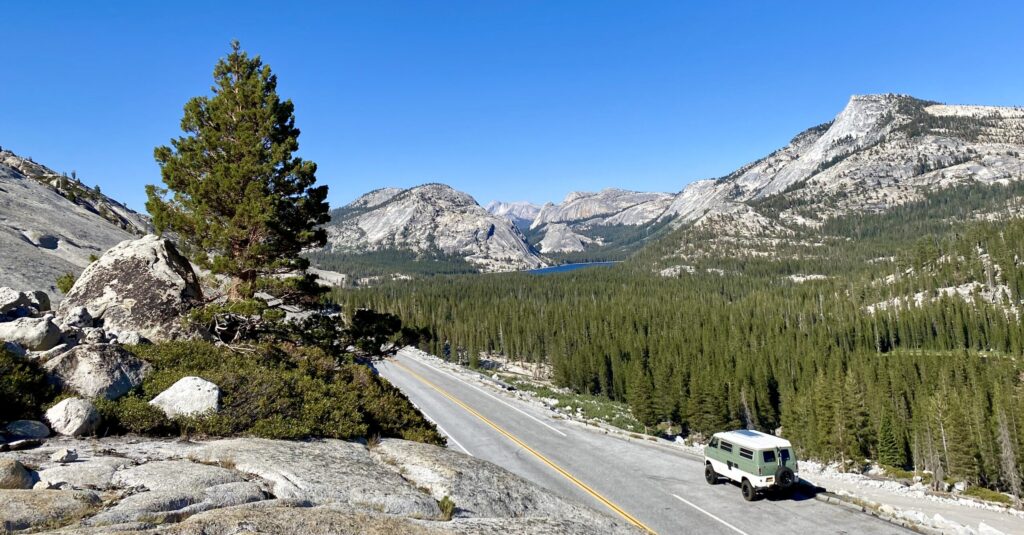 It was a beautiful drive through the Sierra's and much less eventful – in a good way – than the last time I took this route to June Lake. With a new engine, transmission, and brakes the van cruised the 350 miles to Lone Pine in the Eastern Sierras. By the time I was getting to Alabama Hills the sun was starting to go down and I was concerned about finding a campsite. Those worries quickly subsided when I turned off Whitney Portal Road and spotted a perfect clearing surrounded by boulders overlooking the Hills. This is by far the most amazing campsite I have ever stayed at.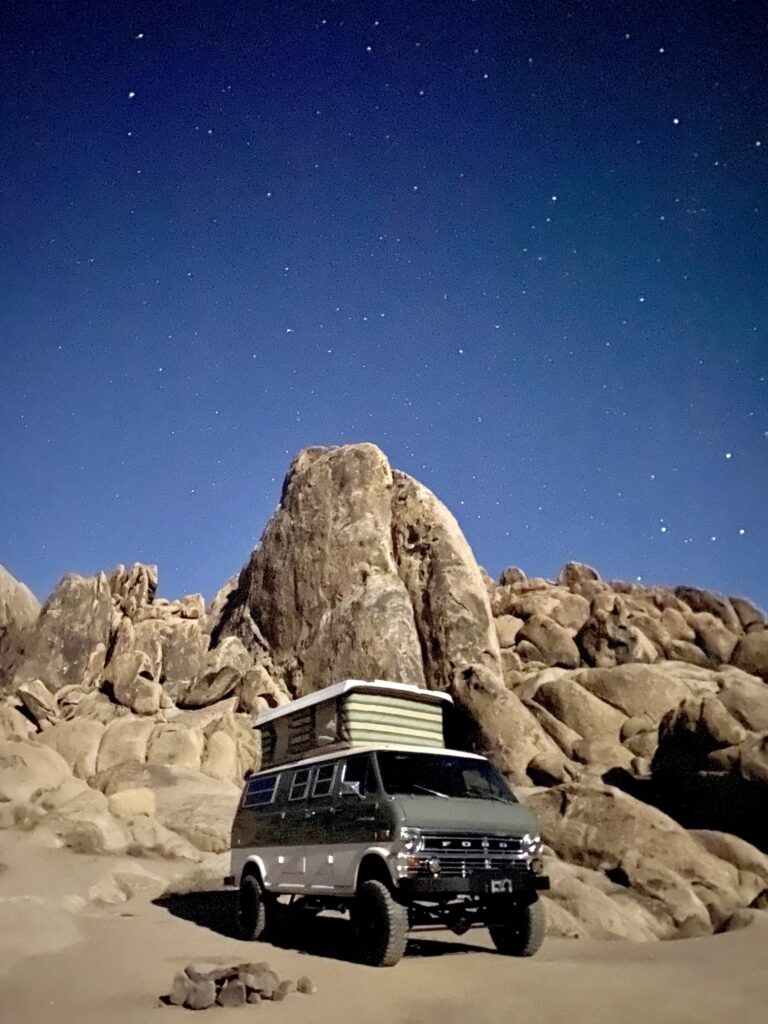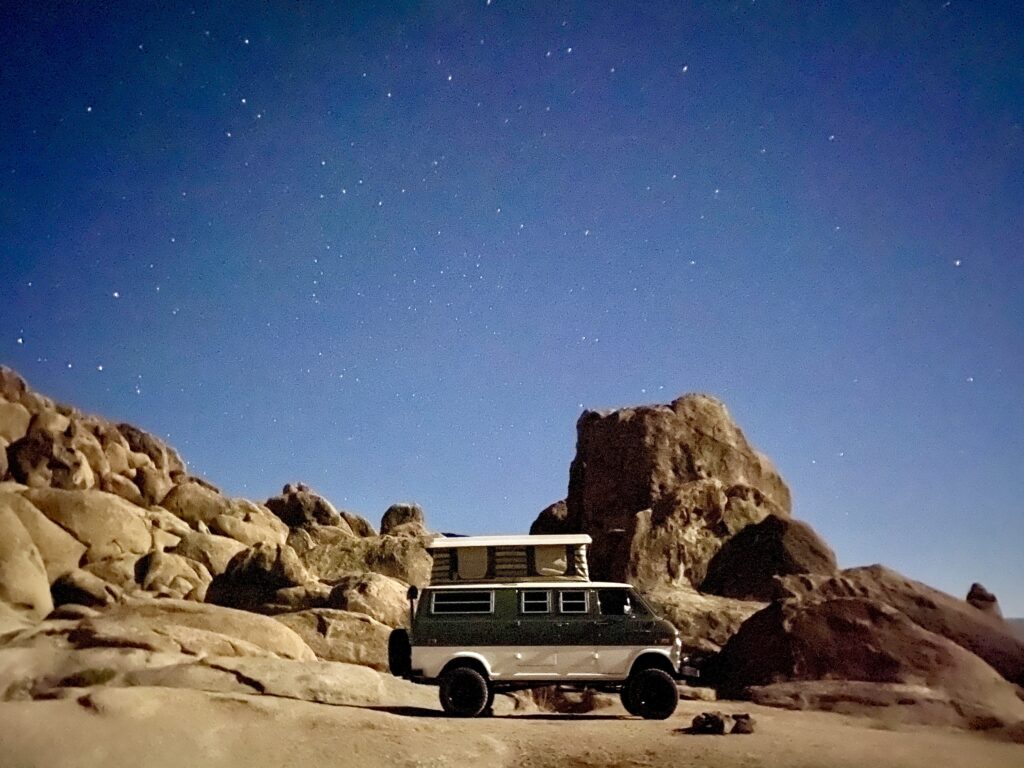 You really can't go wrong at Alabama Hills. Everywhere you look has picturesque boulders neatly stacked and views for days. But I was ecstatic over my own site. I quickly pulled out a chair, opened a beer, and watched the sun set over Mt. Whitney. Being there all alone really helped me enjoy the moment and be present. A perfectly clear night meant the stars filled the sky as I sat and reflected on this crazy year.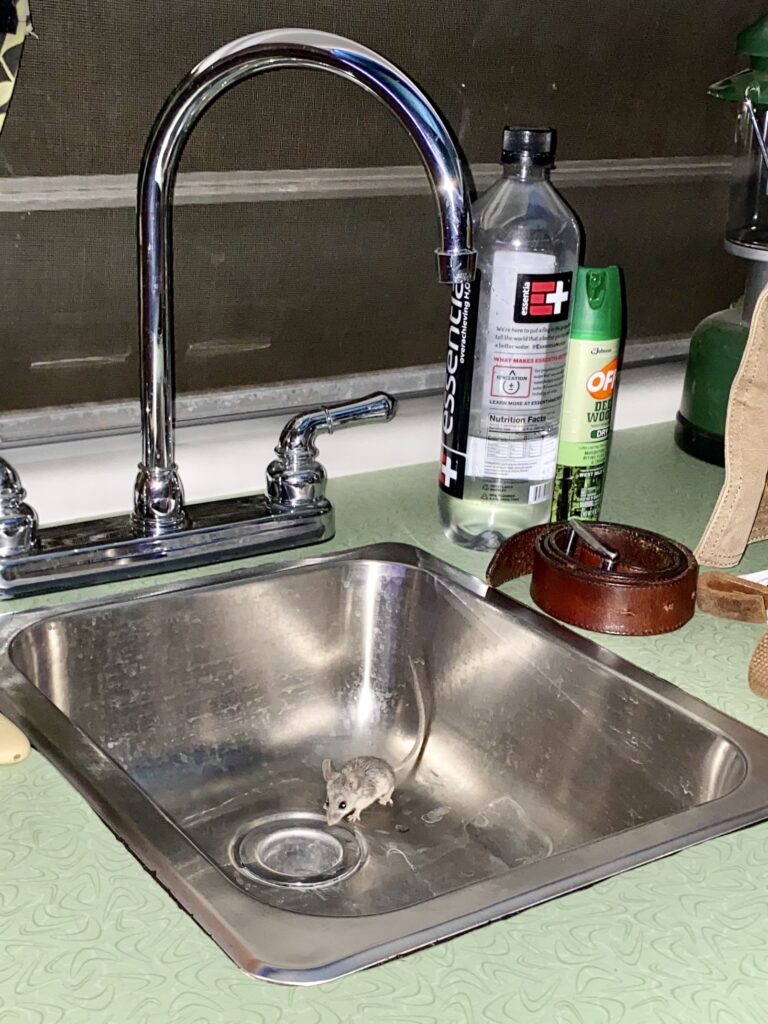 But as it turns out: I wasn't alone after all! As I was setting up the van for bed I heard some scurrying outside. Slightly unsettled, I walked around the van and did not see anything out of the ordinary, until I looked up and saw several mice running around the canvas top. I quickly got back into the van and secured any food inside my refrigerator. But the game was already on and I found that I now had several lil bunkmates for the evening.
Now, I'm not freaked out about a mouse in my van, but these little guys were a) AMPED UP and b) FEARLESS! Not only were they constantly running all over the place, they didn't give a chirp about me. I'm trying to sleep and they are scurrying all over my body! Dudes! You can explore the van all you want but let me sleep! It wasn't until 4AM that they finally gave up and let me rest. I hope they had a fun night at least.
Unrested, the next morning I took in some more amazing views. There are a few sites around Alabama Hills that I wanted to check out. So I hiked to the Mobius Arch and took some pictures for the gram at Movie Road. I met a nice fella who happened to have a drone and he took some beautiful pictures of the van including some behind-the-scenes showing what #vanlife is really about amirite? /sarcasm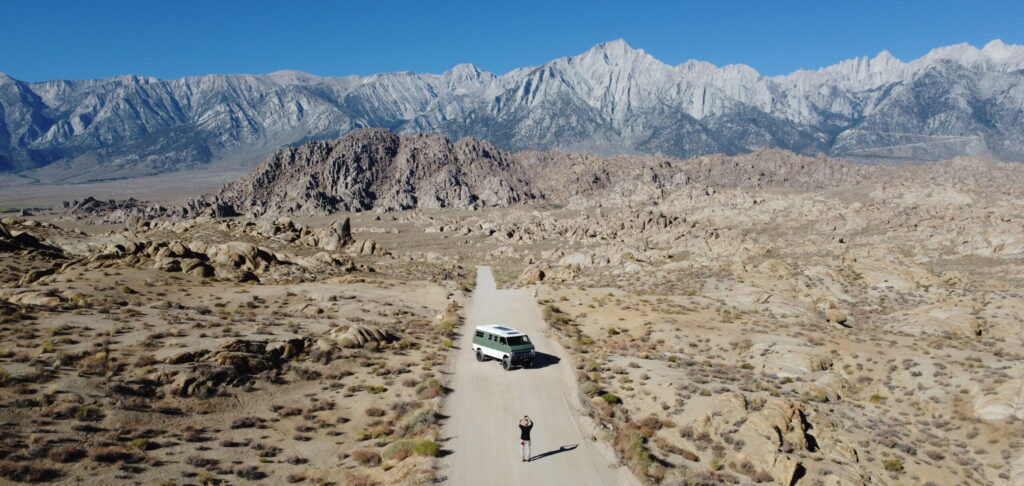 I arrived in LA and spent the day with a good friend and fellow van brother, Mike. This has not been an easy year for any of us, and spending the day with Mike talking shop and catching up was truly the highlight of the trip. Don't worry, the van is not in jail . . . but I will be off the mainland for the next few months spending time in the true 808 and wanted to leave the van in good hands. There are some surprises in the works which means more adventures to come! See you in a few months #808Van!