On Thin Ice @ Ice House
On Thin Ice @ Ice House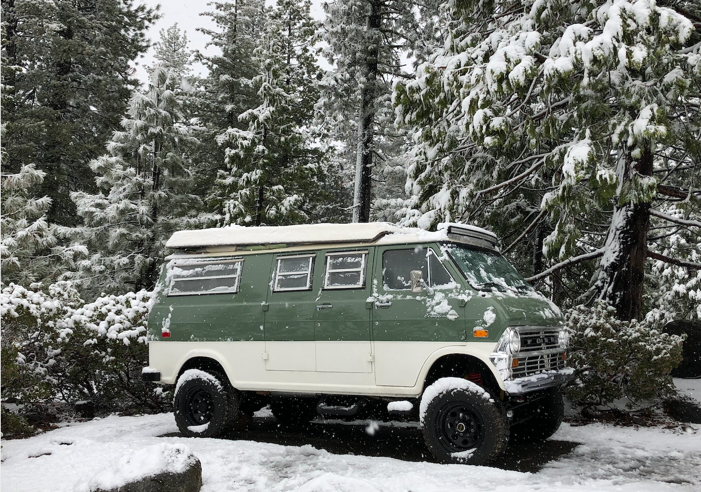 No build is without it's setbacks, and the 808Van had its fair share. Installing the new motor created a bunch of issues and required a lot of extra work to get it running properly. My partner-in-adventure put up with a lot over the years. So we were hoping for a fun and carefree trip over Memorial Day weekend to finally enjoy the van. As it turned out, this trip would test even my own dedication to the 808Van.
The plan was to head to Ice House Reservoir in El Dorado National Forest for 2 nights of camping over the long weekend. I love the Sierra reservoir system and Ice House has been on my list for a while. After a nice lunch of Ramen in Sacramento we headed up the 50 towards Pollock Pines. Everything was going well until we started the climb out of Placerville. Blue smoke began to bellow out from the rear as well as invade the cabin. My heart sank. We pulled off the road immediately and I saw we were leaking oil badly from somewhere up by the engine. The smoke was due to oil hitting hot components like the transmission and exhaust.
As I was underneath the van accessing the next move, a nice couple stopped by to help. They were on their way to pick up dinner at the local Thai spot and committed to helping us. We popped the doghouse and saw that the seal on the oil breather cap had failed, causing overflow. This was actually a best case scenario. The nice couple gave us a quick lift to a local auto parts store with just a few minutes to spare before they closed. After installing a new cap and cleaning all the oil on the engine we were back on our way. Did I mention the nice couple? We couldn't thank them enough for their help and despite my attempts, they refused my offers to pay for their (now cold) dinner.
I wish I could say that everything went smooth from there, but unfortunately that was not the case. We made it to our campsite at Ice House right around sunset with just enough time to cook and eat dinner. After an exhausting trip out we headed to bed just as the night cold started to set in.
"Is the top supposed to be that low?"
I woke up to my partner asking about the pop top. It was less than a foot from our noses as we slept in the penthouse. Much lower than usual. I figured it was just saggy springs, but when I attempted to push it back up the top collapsed with a heavy weight on us. It wouldn't budge. Amidst some panic we finally shimmied out from underneath, spraining my neck in the process. It wasn't until we opened the curtains that we understood why it was so heavy.
"The Van Is Trying to Kill Us!"
After a rough drive out the previous day this was not the calm weekend we were hoping for. I knew the forecast had a few showers but we were not expecting a full on snowstorm! The "Sierra Cement" was so thick on the top I couldn't lift it even after clearing as much as I could. With a bleak start to the day we decided to just pack up and get back home. The snow melted by the time we got back to Placerville. So we warmed our spirits with some hot chocolate and a nice breakfast at Sweetie Pie's. After properly securing the top we drove home without any further drama. Added to the VanBuild list: Dowels to keep the top popped!
This was one of my lowest points with the 808Van. I parked it for a good couple months after this trip. I'm all for adventure, but the van had worn through my patience several times over by this point. I need some enjoyment to make up for the equity lost over the past couple years.